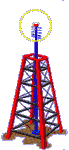 The history of PD0PZR.
This story goes back from the year 1960 till 1970.
I was born in the year 1959 in the big city of Rotterdam. So around the year 1968 I will start with electrical, to made a receiver called "little jam jar receiver". It was just the name, it wasn't made in a jar. I made this receiver with the well-known Amroh coil, a OA81 diode, some resisters and a very long wire antenna. How surprised I was when I could listen to the radio and received AM broadcast stations without any battery. The strongest station I could listen to was a pirate station called Radio Noordzee International, transmitting from a ship in the North Sea, the Mebo 2. That time my radio interest was born. Quickly, a earphone was not enough and I decided to make a amplifier for this radio receiver so I could listen in my bedroom to the radio by a loudspeaker. Thus I have some knocked together that time. The next serious project, a few years later, when I was about twelve or thirteen years old, the FM Broadcast frequency seems to be popular. I decided to make a FM transmitter. That time you could find me most of the time into the library to watch technical information. The first FM- transmitter was made. Transistors I used were AC126 and AF128, after all I bought the microphone at the marketplace. And look, it works! Completely instable but enough for at least 500 meter distance, with an antenna who wasn't made for a special frequency, but it doesn't matter. And it was illegal, but that wasn't my problem, I didn't know (hi). The frequency between 100 and 108 MHz are not used that time so we could use it as a pirate station. In the years 1975 / 1980 this 100MHz will be very popular also for me. Not even for bringing music, just for make contacts with other 100MHz (pirate) stations in the whole country, Germany and Belgium. I was very active at that time. The sky was the limit and so the HF power. Nothing was enough. The first amplifier was just a MRF 238, but the end was a amplifier 2 x 4cx250B. Enough to make 1Kw. The standard FM broadcast receivers became a modification into the mf, to make them more selective.
I could practise this hobby without any problems, the (communicate) authority were not interest in me and my illegal hobby.
Everything we used was home made because nothing was to buy in the shop, or it was sold from a other radio amateur.
In the early years '90, the local en regional Broadcast stations took a place into the 3 meter band and this was the beginning of the end from 100-108MHz pirate stations. Most of them went to a other (pirate)band in the uhf frequency, 480Mhz, and so I did. Just low power in audio and video transmission.
I decided to go for my ham licence in the year 1989 and from that time I have my call sign PD0PZR. In the beginning just for 2 meter, 144Mhz, later, around 1995 also for vhf 70cm. I was very active with packet radio as a little node station, 1k2 and 4k8. After the big bang (=internet start) nobody works packet anymore, and also 2 meter is very inactive since that time.
After a long break, because a serious illness, I took the hobby again in the years 2005.
Now, 2006 we can also operate in the HF frequency 10, 20 and 40 meter bands as well, so we picked up the hobby again.
One step forward, springtime 2007, I have to replace all my antennas and also change the complete tower because of the hf antenna. How some works, you can find it on my website. Just click the link "antenna renovation 2007" somewhere on this page.
Again one year later, 2008, I decided to change my 3 element Fritzel for a 3 element SteppIR antenna. How I made it, you can see on my website. Just click at the end of this page on the SteppIR link.